This post will show you how to upgrade the Quectel 4G Module EC25 via the USB Tool.
Ready
Get one "4G Mini PCIe to USB Adapter".
Quectel 4G Module
Clips
Download Upgrade Package
Click hereto download the "EC25-AFA_Module_Upgrade" to your PC;
Unzip all of them to the same folder;
Install 4G Module Driver
Open "Quectel_LTE&5G_Windows_USB_Driver"
Click the "setup" and install it.
Connect to PC
Insert the 4G Module EC25-AFA to the "PCIe to USB Adapter";
Fix the module with screws or clips;
Connect the "PCIe to USB Adapter" to your PC USB Port
Check Com Port
You can open Device Manager (press the Windows button then type 'device').
Right-click the "Windows Start" ;
Select the "Device Manager";
Click "Port (COM & LPT) and Note the DM Port("Quectel USB DM Port (COM18)"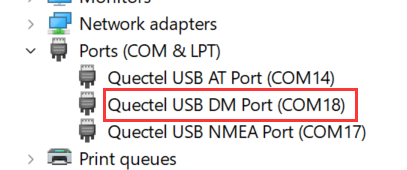 Firmware Upgrade
Open "QFlash_V4.10.exe" on the "Qflash_V4.10" folder;
Select the DM Port on "COM Port";
Click the "Load FW Files" button, choose the firmware folder and select any file under the "update" folder.
Click the "Start" button to upgrade the firmware
"PASS" will be shown on the interface after the firmware has been successfully